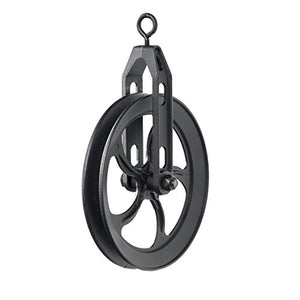 Farm Pulley
Regular price
Sale price
$75.24
---
Brand: Rustic State
Color: Black
Features:
Sturdy Construction: The aluminum pulley is lightweight and easy to hang on a bracket with a hook, it won't pull down the bracket and the round pully will wind up the long cord of your pendant lamp for a finished streamlined look.
Crafty Rustic Design: Create a trendy rustic, farmhouse style look to spruce up your dull apartment living room. It is a great touch of rustic design for a log home, hang a mason jar light to give it the industrial vintage look.
Custom Make Lamp: The pulley will help you create a custom make lamp for a home, office, restaurant, bar, diner, café or any place that needs a touch of trendy, stylish rustic design. Finish off with a pendant lamp of your choice and you'll have your custom make wall lamp for an affordable cost.
Hang Multiple Light Fixtures: With the purchase of multiple pulleys you can create wall light fixtures in every room. Create a custom wall lamp to use on top of each nightstand in your bedroom. The farmhouse style, industrial or rustic design will make your bedroom décor look different than the traditional décor that everyone prefers.
Feel Like an Interior Designer: Decorate your home with custom décor pieces that you created, feel accomplished and show everyone your potential in home decorating and crafts. There are endless possibilities when it comes to Industrial, Rustic, or Vintage decoration ideas, put yourself to the test and get ready to fall in love with the outcome.
Publisher: ArtifactDesign
Details:

You Can Perfectly Embody a Rustic Farmhouse Style Décor in Your Home, Restaurant, Bar, Café or Diner with the Help of the Vintage Industrial Look Pulley...
Create a High-End Design Like the One's You See on Pinterest: You can use the pulley for decorating your patio, deck, balcony or backyard, there are endless possibilities when it comes to creating a custom design with a pulley. You can use it for hanging plants, light fixtures, Moroccan lanterns, candle holders, or flower pots to make the pulley design look out of this world beautiful. Hanging light fixtures creates a nice streamlined look and you won't have to hide the cord behind any piece of furniture. Create a custom living room décor with a pulley, it is perfect for hanging a frame, mirror or clock with a rope which adds an extra hint of rustic or industrial look.

Custom Make Decoration for Nearly a Fraction of the Cost: Custom decorating is trendy and expensive for most individuals, but with the inexpensive high-quality lightweight pulley everyone can create a custom barn, farmhouse style décor. Not everyone can hire an interior designer to create a stylish rustic home decoration but everyone could take up a hobby and create a vintage rustic design of their choice. You can be the envy of your friends with a whimsical, ingenious design that is out of this world. Your guests will ask you to guide them to create custom designs as well. You can tell them that it is fun, exciting, and inexpensive compared to buying store bought options that is time consuming, stressful and expensive. You can even alleviate signs of depression and fatigue by engaging in DIY arts and crafts.

Item Specifics:
Material: Aluminum
Color: Frosty Black
Pulley Dimensions: 6" x 8.75" Wheel Diameter: 6"

Package Content:
1 Rustic Design Frosty Black Pulley for Customized Pendant Lamps
UPC: 653341975218
EAN: 0653341975218
Package Dimensions: 7.3 x 7.0 x 3.0 inches
---